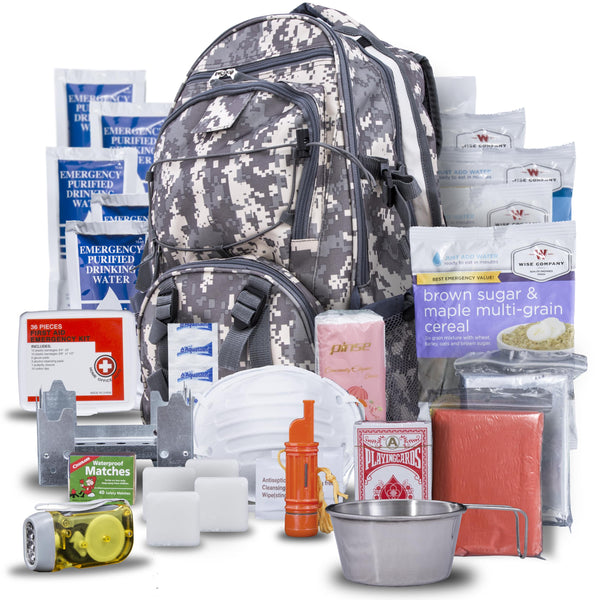 *LIMITED TIME*


Receive a FREE Patriot Beacon 2 R.E.D with each purchase!
***Food Supplies can only be shipped to U.S. Addresses. Sorry for the inconvenience.
FREE
SHIPPING
100% MONEY
BACK GUARANTEE
ONLINE
SUPPORT 24/7
Availability:
Out Of Stock
Ready For You To Grab N' Go When Trouble Starts
After an emergency, you may not be able to rely on others for help. In some cases, your survival is up to you, and you'll need to survive on your own for several days. Being prepared means having your own food, water, and other supplies to last those several days. Our 65 Piece Grab N' Go Backpacks are meant for 72 hours of use and are packed with delicious foods, drinks, a first aid kit, a safety mask, and plenty of extras. The world is changing and self reliability is only more important than ever before, protect yourself and your family during these dark times.
Southwest Beans and Rice
4 servings
Creamy Pasta
4 servings
Tortilla Soup
4 servings
Brown Sugar Multi Grain Cereal
4 servings
Apple Cinnamon Cereal
4 servings
Whey Milk
12 servings
---
FREE Patriot Beacon 2 R.E.D with Every Grab N' Go Backpack
Blue/Red Emergency
Lights
---
An Emergency Bag Always At The Ready
The 65 Piece Survival Backpack provides you with everything from first aid necessities to waterproof matches. It even includes 32 servings of entree options to keep you replenished and energized for the days ahead and a portable stove to simplify reconstitution.
Food and Drink:
32 Total Servings (Including Apple Cinnamon Cereal, Brown Sugar Cereal, Creamy Pasta, Southwest Beans and Rice, Hearty Tortilla Soup, and Whey Milk)
5 X 4.227 fl. oz. Water Pouches
First Aid and Hygiene
37 Piece First Aid Kit
N95 Dust Mask
Pocket Tissues
3 Wet Naps
Waste Bag
Additional Supplies:
Portable Stove (Including Fuel Tablets)
Stainless Steel Cup
Squeeze Flashlight
5-in-1 Survival Whistle
Waterproof Matches
Mylar Blanket
Emergency Poncho
Playing Cards
Free Patriot Beacon 2 R.E.D
Additional Info:
Includes 1 total backpack
Total calories: 5,160
Food is safely sealed in Metallyte™ pouches
To avoid waste, each pouch conveniently contains 4 servings
25-year shelf life
Total Weight: 9 lbs
Dimensions: 11" x 7.5" x 17"
---
*Ensuring your able to have sustainable food for up to 25 Years. All food items are Proudly Grown and Packaged in the USA. All of our items are sealed in Heavy Duty Metllyte™ resealable pouches, ensuring the longest life possible.