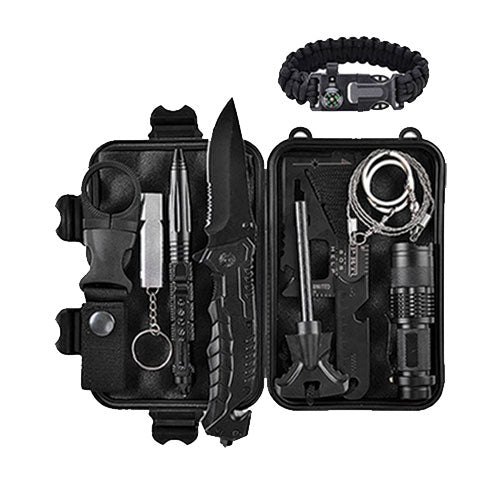 FREE
SHIPPING
100% MONEY
BACK GUARANTEE
ONLINE
SUPPORT 24/7
Availability:
20 In Stock
Stay Prepared with the Admiral Survival Kit
Comprised of 12 select pieces to create the Ultimate Survival Kit. The Admiral Survival Kit is intended to be used not only in emergency situations but in everyday life. Store one in your car, bag and even in your desk at work. One of the many perks of having the Admiral Survival Kit at hand is the peace of mind that comes with it. Knowing that whatever may come your way, whether it be a car accident, power outage, or you simply need a pen, the Admiral Survival Kit is there to cover your SIX, keep you safe, and prepared.
The Arsenal
A 4-inch Tactical Knife with a fixed window hammer and a rope cutter are one of the many essentials in this survival kit. Made of high-grade stainless steel, the knife is built for any situation you may need. With a serrated blade, you can easily cut rope, branches, rubber, thin metal and so much more. In emergency situations, the window hammer can free you in a matter of seconds.
Stainless Steel 4 inch Blade
Serrated Blade
Rope Cutter
Steel Window Breaker
Bottle Opener
Tactial Pen
2 function Tactical Pen
Hardened Steel tipped window breaker
Smooth round top pen
Flashlight
300 Lumens
High beam, Low beam, Strobe
Waterproof/Drop Proof
Zoomable
No batteries included
Fire Starter
Quickly Strike to ignite a roaring fire
Handle for easy grip and secure hold
MM/KM ruler engraved on scratcher
Water Bottle Holder
Carry your water around hands-free
Secure a water bottle to your belt, bag and more
Fits most bottles
Dual-chamber Whistle
Dual-chamber for double the effect of 1 blow
Loud, Piercing 120 decibels can be heard from long distances
Durable body made of aluminum alloy
Hand Chain Saw
Sharp Teeth for quick easy cutting
Capable of cutting Wood, Plastic, Bone, Ruber, Soft metal
Compact easy to store
Multi Card Tool
The Multi-Tool Card is made up of 11 mini tools to give you access to tools that you normally would never think about. From a flat head screwdriver to a bottle opener. It's all available at your fingertips, and yet its the perfect size to store anywhere, even in your wallet.
5-in-1 Survival Bracelet
Our Survival Bracelet is another amazing product that's focused on keeping you safe and prepared. It has x amount feet of 550lb paracord, a compass, whistle, and a quick start magnesium fire starter. Perfect for hikes and any outdoor activity.
What's in the box:
The Arsenal (Knife)
Dual-chamber Whistle
Hand Chain Saw
Tactical Pen
Flashlight
Large Ferrocerium Rod Flint (fire starter)
Steel Striker with Ruler & Bottle Opener
Water Bottle Holder
11-in-1 Multi-Card Tool
5-in-1 Survival Bracelet
Shockproof Case