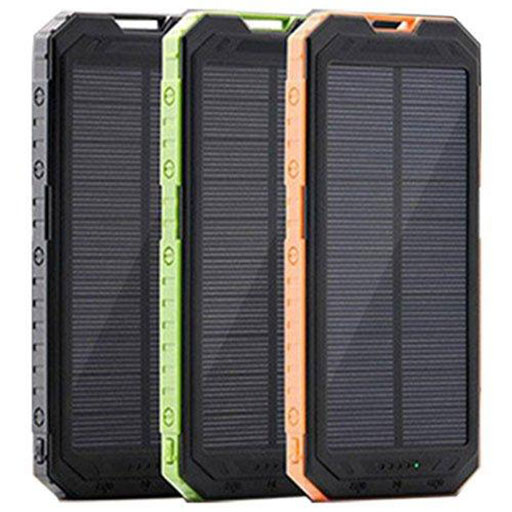 FREE Power From The Sun Charge Phone/Tablets Solar Charge 10,000mAh Battery Dual USB Charging 9 Premium LED Flashlight Detachable Compass Water-Resistant Durable Power In Your Hands Communication is key in...
FREE
SHIPPING
100% MONEY
BACK GUARANTEE
ONLINE
SUPPORT 24/7
Availability:
Out Of Stock
FREE Power From The Sun
Power In Your Hands
Communication is key in any aspect of life, but in an emergency situation like a natural disaster, communication is KEY to survival. And many who have experienced a disaster know one of the first things you lose is power. Removing your ability to receive updates and contact family and friends. Stay safe and in touch with the outside world by keeping your devices charged, even when you're without power for days. The Stryker Power Bank provides you with unlimited charging for any of your devices. Recharge the Stryker with the Power of the Sun, or via the included charging cord, offering you total unlimited mobile Power. A built-in flashlight boasting 9 Premium LEDs offers you unlimited lighting with 3 distinctive lighting modes, High Beam, Low Beam, and SOS. Water Resistant, Dustproof, and Shockproof, it's designed for any of the elements to bring you power, light, and direction when there may be no other source.
Solar Charging
Don't let Power Outages keep you out of reach from family and friends. The built-in Solar Panel provides you with unlimited mobile power from the sun. Allowing you to keep your devices charged even if there's no power. Stay up to date and informed about the events that caused you to lose power and stay ahead of the situation.
The Most Advanced Power Bank
Solar Charging
Micro USB Charging
Dual USB Charging
3 Function Flashlight
Perfect Size. Firm Grip.
What's in the box:
Stryker Power Bank
Micro USB Charging Cord
D-link with compass
Instructions